Brasil VIP – Passagens Aéreas
»
Tourism in Brazil
» Pelourinho Salvador Brazil
Pelourinho Salvador Brazil
See everything about the Pelourinho in Salvador, Brazil. The city of Salvador, capital of Bahia famous is among one of the most targeted tours the country
Tweetar
The city of Salvador, capital of Bahia famous is filled with so many attractive, besides being one of the most targeted tours the country, also adds many historical values. The biggest clue is in the popular culture of african descent, where the region has a larger agglomeration, since the African roots, alternating between music, costumes, religion, ideologies and so many other details that characterize the entire state.
This region of northeastern Brazil, has several folkloric expressions, whether in the preservation of secular churches, crafts typical of rural towns, diverse belief of a mestizo people surrendered to the myths and rites of worship land to all the saints, exporting music composed by national and ax still has what is most beautiful regarding living nature, which seals the vacation site.
From north to south of the state, one can admire amazing landscapes, numerous beaches, islands, rivers and waterfalls that make up the natural scenery. In the city of Salvador, you can find tourists round the year, coming from thousands of cities from all over the world. Besides the cultural, gastronomic, there are also those who visit the city in search of knowledge about the history of the region, which by the way unfolds the history of Brazil.
Among the attractions of Salvador, Pelourinho district is considered as one of the major postcard city. The site brings together much of what is there about the history of creation of Bahia, and the era of slavery in the country, just because the location was used to apply punishments to slaves. Currently, it can be observed a square surrounded by several old houses of colonial style, and many important architectures such as the Cathedral Basilica of the Rosary and the Church of Black Men.
The Pelourinho still meets several restaurants offering the best of Bahian cuisine, many craft stalls, cultural centers such as museums and theaters, musical attractions, religious events such as group practice afoxé Sons of Gandhy, and also has the familiar drumming performances of Olodum . Several important events happened in Pelourinho, like recording the video for "They Do not Care About Us", the famous singer and the late Michael Jackson.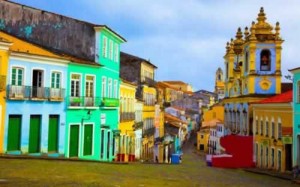 Many years ago, in the mid-'60s, the Pelourinho neighborhood was rundown and forgotten, transformed into point of prostitution, drug sales and much violence. Only after 1980, it started to be changed, the pillory was considered Cultural Heritage of Humanity, UNESCO World Heritage since 1985 and has been reputed as the cultural center of Bahia and Brazil.